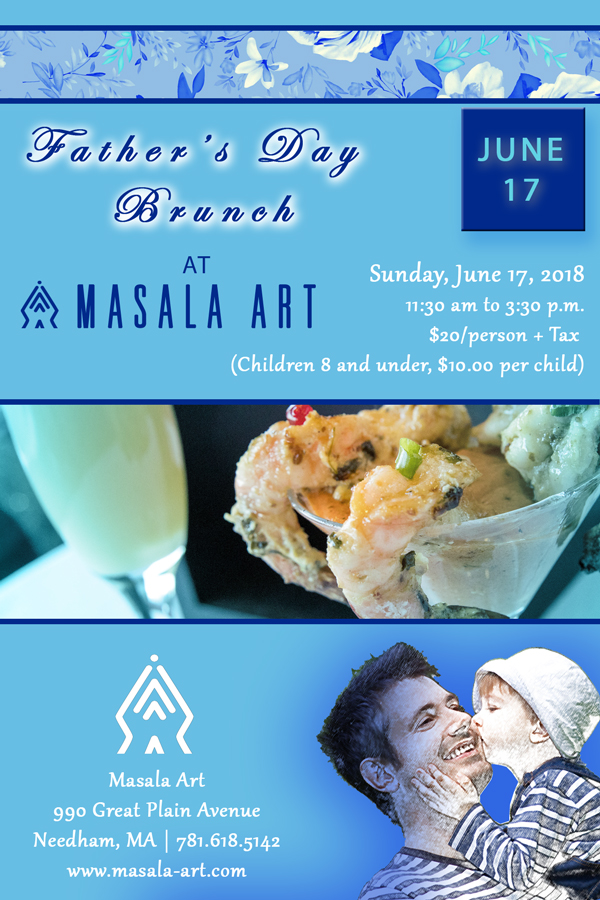 Celebrate Father's Day with Brunch at Masala Art
Sunday, June 17th, 2018
11:30 am to 3:30 P.M.
$20/person + Tax 
(Children 8 and under, $10.00 per child)
Chaat station & appetizers
Chaat is a nutritious roadside snack found in Northern India. Choose your own toppings and fillings and create your own Chaat!
Chaat Papri
A nutritious easy-to-make Indian snack comprised of graham flour crackers topped with whipped yogurt, chickpeas, diced potatoes, chutneys, various herbs and spices
Paani Poori 
Graham flour puffs filled with chickpeas, diced potatoes and spicy water called 'jaljeera'
Bhel Poori 
Crispy rice puffs tossed in our tangy sauce with green chilies and lemon juice
Indian Corn Salad
Live at the spice bar!
Our Spice Bar is the highlight of Masala Art. It is where we showcase the art of blending spices.
We will be preparing fresh breads at the Spice Bar to be served with a traditional entree called 'Chana.' Enjoy your choice of bread made fresh to order with this magnificent entrée!
Chana-Bhatura 
A traditional chickpea curry topped with chopped onions and green chilies; served with freshly made fried bread called "Bhatura"
Masala Dosa 
Crispy rice and lentil crêpes, served plain or filled with potatoes and peas
Idli 
Steamed rice cakes
Sambhar
A vegetarian spiced lentil broth
Live Omelet Bar
Enjoy freshly prepared omelets with your choice of veggies
North Indian buffet
Jeera Rice
Steamed, fragrant long-grain Basmati rice infused with roasted cumin seeds
Hyderabadi Goat Biryani 
Biryani is Hyderabad's most famous rice dish prepared with flavorful Indian spices and fresh herbs, slowly cooked to maintain the flavors and aromas of each spice
Punjabi Kadhi
A traditional Punjabi preparation of spiced chickpea dumplings immersed in a spicy lentil and yogurt curry
Indian Chinese Chili Paneer
Homemade cheese tossed in spicy red chili with scallions and hot chilies
Gobhi Mussallam
A Northern Indian preparation of cauliflower florets delicately spiced and sautéed with tomatoes and bell peppers
Khattay Meethay Baigan
Strips of eggplant stewed in a tomato sauce enhanced with fenugreek and mustard seeds
Butter Chicken 
Pulled tandoori grilled chicken simmered with fresh tomatoes and puréed cashew nuts
Tandoori Chicken
Juicy char-grilled chicken on the bone marinated in yogurt and our homemade blend of spices
Naan 
Freshly baked leavened buttered bread
Desserts
Assorted Sweets
Badami Kheer
Chilled homemade rice pudding flavored with cardamom, almonds, and raisins