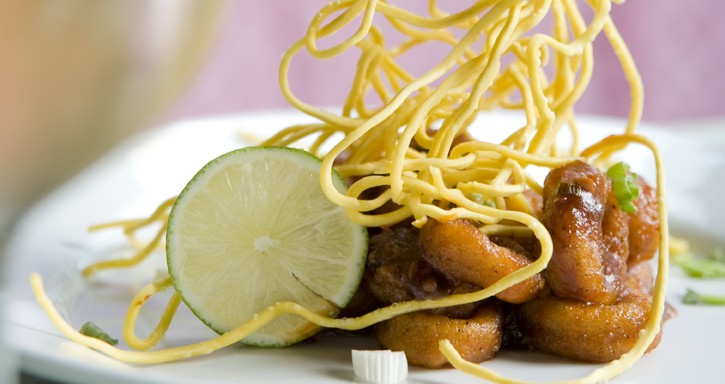 Mulligatawny Soup* (GF, V)
Lentil soup flavored with herbs, mild Indian spices and a touch of garlic 6.
Tomato Basil Soup* (GF)
A zippy blend of tomatoes, cumin, ginger and garlic 6.
Kachumber Salad* (GF)
A chilled salad of cucumbers and tomatoes tossed in our sweet and tangy dressing 8.
Bhel Poori*
Crispy rice puffs tossed with chopped tomatoes and lemon juice with tamarind chutney and our homemade blend of spices 8.
Samosa Chaat*
Vegetable Samosa topped with chickpeas, yogurt, chutneys and our homemade blend of spices 10.
Dahi Papri Chaat*
Lentil crackers topped with spicy potatoes, chickpeas, yogurt and chutneys 8.
Pav Bhaji*
Bombay's favorite street snack! Potato and vegetable curry served on a bun 10.
Vegetarian Platter*
Vegetable Samosa, Spinach & Onion Pakora, Cheese Pakora, Spinach & Cheese Roll 12.
Vegetable Samosa*
Handmade turnovers stuffed with seasoned potatoes and green peas 6.
Lamb Samosa
Handmade turnovers stuffed with spiced ground lamb 7.
Assorted Pakora Platter* (New!)
Chickpea battered fritters made from cauliflower, sliced potatoes, onions and spinach, and homemade cheese 10.
Spinach Cheese Rolls*
Delectable spinach and homemade cheese rissoles with a touch of green chilies 8.
Tandoori Chicken Wings (GF)
Juicy char-grilled chicken wings marinated in yogurt and our homemade blend of spices 13.
Malai Shrimp Cocktail (New!) (GF)
Delicious tandoori grilled shrimp coated with yogurt, and light spices; served with our homemade cocktail sauce 18.