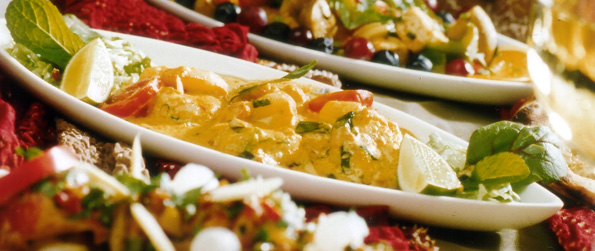 Whether catering your wedding or other events, Masala Art is proud to offer an extensive menu selection of Indian Cuisine for catering which goes beyond
the menu
we offer at our restaurants. Masala Art will cater a spectacular tandoori barbecue any time of year for corporate or private parties of 25 to 2500 people. In catering, we offer many items beyond our restaurants menu and on our website, including all kinds of regional Indian items. All our chefs need is outdoor space or an open garage to set up the tandoor oven. From grinding our own spices to making yogurt and cheese, we prepare everything from scratch. Like the food in our restaurants (Bombay Club in Cambridge and Boston, Curry Leaf in Natick, and Masala Art in Needham), we do not use packaged or processed ingredients for our tandoori barbecue.
Get in touch with us for all of your catering needs by filling out the form below or calling (781) 449-4050.
Our catering menus are custom designed for your event. We have
six standard catering menu options for you to choose from
. Menus can be altered or changed to meet your needs. Please call us to set up a complimentary tasting to customize your menu today.
What is tandoori cooking?
Tandoori cooking is Barbecue – Indian Style. Breads and skeweres of shrimp, chicken, lamb and vegetables are baked over a fired of hardwood charcoal in a tandoor – a deep cylindrical clay oven developed centuries ago in northern India.
What makes Tandoori cooking so special ?
Tandoori cooking is a delicious, healthy way to entertain.
No fats or oils are used to add calories or mask the distinctive taste and aroma of breads and kebabs prepared in the tandoor.
The Tandoor's intense heat surrounds food to quickly seal in their natural juices.
Foods are meltingly tender, moist, and flavorful .
Why Is Tandoori Cooking Exciting?
Tandoori cooking is a feast for the eyes and the tastebuds.
Master tandoor chefs expertly shape and slap flattened rounds of dough directly on the red hot walls of the tandoor where the dough swells to puffy baked bread within seconds over the glowing charcoal flame.
Colorful kebabs are skewered and gently lowered into the tandoor where they acquire the oven's smoky flavor and become succulent and lightly charred.