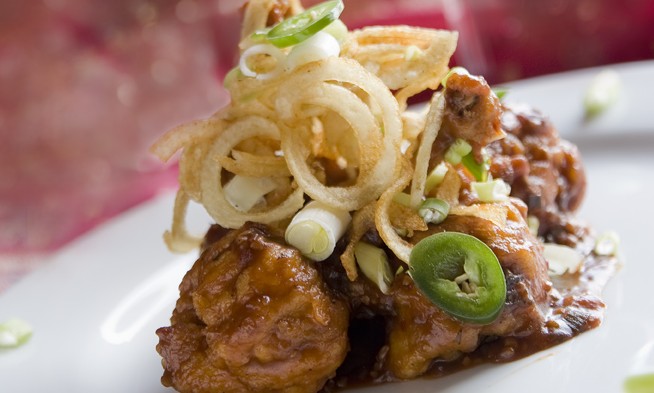 (served with basmati rice)
Chicken Tikka Masala Gluten Free!
India's most famous dish! White meat grilled chicken cooked in a delightfully spiced creamy tomato and paprika sauce 16.50
Chicken Saag Gluten Free!
Succulent pieces of chicken simmered with spinach, tomatoes and exotic spices 16.
Chicken Vindaloo Gluten Free!
Very Spicy! Juicy pieces of chicken marinated in red chilies and vinegar, stewed with potatoes 16.
Chicken Korma Gluten Free!
A mild chicken curry simmered in a creamy almond and cashew sauce 16.
Saffron Chicken Gluten Free!
White meat chicken marinated and finished in a coconut and saffron curry sauce 16.50
Chicken Lababdar (New!) Gluten Free! 
Tender white meat chicken simmered with tomatoes, onions, and fenugreek 16.50
Afghani Chicken Pasanda (New!) Gluten Free!
Juicy pieces of chicken stewed in a silky and creamy cashew nut sauce 16.50
Karahi Chicken Lahori (New!) Gluten Free! 
A popular dish from Pakistan-A fierty chicken curry stewed with bell peppers cooked in a traditional cast iron wok 16.50
Chicken Akbari (New!) Gluten Free! 
Tandoors grilled Reshmi Chicken Kebab sliced and sautéed with spiced bell peppers and onions 16.
Chicken Anarkali Gluten Free!
A light chicken curry stewed with pomegranate sauce – a Masala Art exclusive! 16.
Butter Chicken (New!) Gluten Free! 
Pulled tandoori grilled chicken simmered with fresh tomatoes and puréed cashew nuts-Authentic Northern Indian recipe 16.
Chicken Dostana (New!) Gluten Free! 
A rich chicken curry infused with dates, onions and tomato 16.50