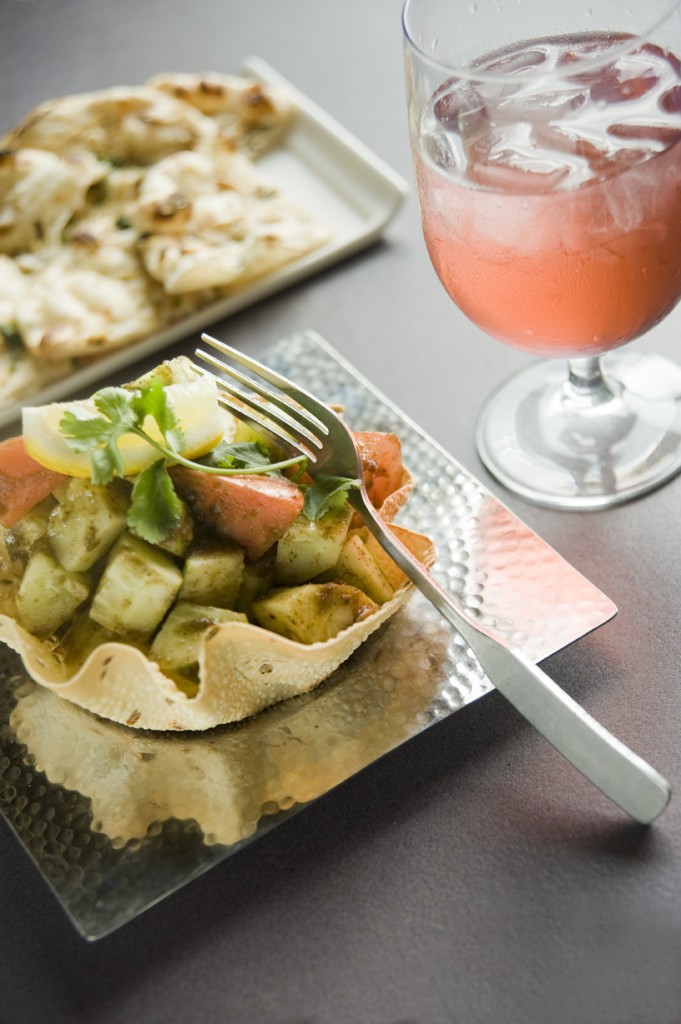 Vada Pao* (New!)
Spicy vegetarian sliders made with seasoned potato patties on a bun 8.
Pao Bhaji*
Bombay's favorite street snack! Potato and vegetable curry served on a bun 8.
Samosa Chaat*
Vegetable Samosa topped with chickpeas, yogurt, chutneys and our homemade blend of spices 8.
Radga Pattis*
Deep-fried potato patties topped with spicy chickpeas 9.
Dahi Papri* (New!)
Lentil crackers topped with spicy potatoes, chickpeas, yogurt and chutneys 6.50
Paani Poori* (New!)
Crisp flour puffs filled with chickpeas, potatoes and spicy water called 'jaljeera' 8.
Bhel Poori* (New!)
Crispy rice puffs tossed with chopped tomatoes and lemon juice with tamarind chutney and our homemade blend of spices 7.
Grilled Chicken Salad Gluten Free!
Skewered grilled Chicken Tikka served over baby arugula, tomatoes and cucumbers with a splash of lemon; topped with feta cheese 9.
Kachumber Salad* Gluten Free!
A chilled salad of cucumbers and tomatoes tossed in our sweet and tangy dressing 6. Add Chicken 2.50 Add Shrimp 4.