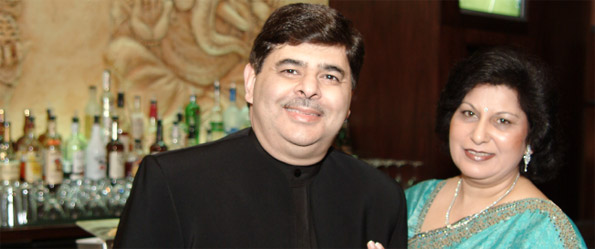 Vinod & Shikha Kapoor are the owners of Masala Art in Needham. They started off as owners of a small basement restaurant in Back Bay called Kebab-N-Kurry in 1980. After winning the Best of Boston in the early 80′s they decided to expand their business. They opened another Kebab-N-Kurry in Providence, R.I. After several years of success in the business of Indian Cuisine, they opened Bombay Club in 1991. This was a change from the traditional Indian restaurant. They decided that the Indian Restaurant Industry needed a more upscale dining facility. They proved that when they opened the 126 seat, well decorated, and operated Bombay Club. Since 1991, the Kapoors have gone on to open Bombay Club in Faneuil Hall (a fast food concept) 1998, Curry Leaf in Natick (2003) and most recently Masala Art (2003).
Masala Art is a contemporary, upscale Indian eatery, a new concept to New England. The idea for the restaurant sprung from surrounding competition. In an era where almost every Boston area Indian restaurant had similar menus and decors, the trendsetting couple decided once again that it was time to for a paradigm shift. Observing that the Boston and Cambridge areas were becoming saturated with Indian eateries, they decided to move their newest concepts to the suburbs. Opening Curry Leaf and Masala Art within one year was a challenge, but once again a trendsetting development.
The concept of Masala Art is unique to other Indian Restaurants. Firstly, the décor is unlike any other. The restaurants design itself took close to three years in development. The extended time spent is showcased in every detail of the restaurant, from the sculptures of Lord Ganesha (The God of Prosperity) behind the bar, to the fiber-optic lighting that illuminate the main dining areas, and the silk covered pillows that rest on the beautifully designed banquets. The real exhibit however is the "Spice Bar," an exclusive nine-seat bar which is actually a small kitchen created in the dining area where guests can have an interactive cooking/dining session with the executive chef by reservation. Guests can choose from preset menu options which include vegetarian, non-vegetarian and seafood selections.