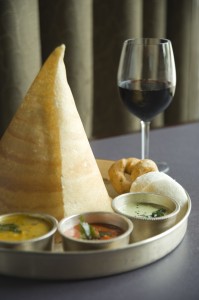 Masala Braised Lamb Shank (New!) Gluten Free!
A special recipe for tender, slow roasted lamb shanks, marinated for three days and braised in a delicate tomato and onion reduction; served with steamed Basmati rice 26.
Punjabi Mutton Curry Gluten Free! 
Succulent goat stewed to perfection; served with steamed rice 18.
Punjabi Kadi with Kaddu Ki Sabzi* (New!)
A traditional Punjabi preparation of spiced chickpea dumplings immersed in a spicy lentil and yogurt curry; served with steamed Basmati rice and spiced butternut sqaush 16.
Chana Bhatura* 
A traditional Punjabi recipe for chickpeas served with fresh puffed bread 14.50
Gobhi Gulistan* Gluten Free!
Whole cauliflower steamed an grilled over a charcoal flame and then finished in a yogurt, cashew and fresh mint sauce; served with steamed Basmati rice 16.
Grilled Tilapia with Pomegranate Sauce
Pan-seared tilapia served over a lightly spiced pomegranate sauce; served with sautéed vegetables and mini naan bread 22.
Dum Handi Biryani
Biryani is Hyderabad's most famous rice dish prepared with flavorful Indian spices and fresh herbs, slowly cooked to maintain the flavors and aromas of each spice. Vegetarian* 15. Chicken 17. Lamb 18. Mutton (Goat) 19.