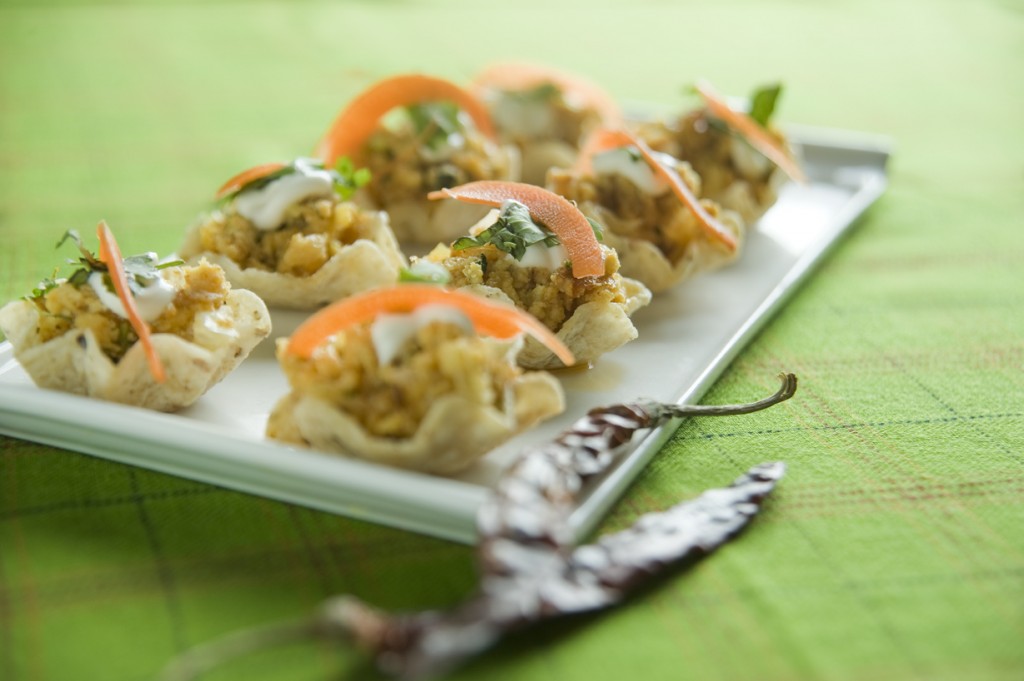 Sweet Potato Fries*
Homemade sweet potato fries dusted with chaat masala 4.50
Lamb Burger Sliders
Two juicy spiced lamb patties served on mini buns; served with sweet potato fries 10.
Chicken Tikka Satay (New!) Gluten Free!
Flat white meat chicken marinated in yogurt and spices grilled on skewers; served with mint and tamarind chutneys 9.
Paneer Makai Seekh Kebab* (New!) Gluten Free!
Minced homemade cheese and seasoned corn kernels skewered and grilled over a charcoal flame 10.
Chicken Tikka Lettuce Wraps (New!) Gluten Free!
Sliced tandoori grilled Chicken Tikka, carrots, cucumber strips, and lettuce leaves, served with three delicious homemade sauces – Tamarind, Mint and Sweet Red Chili 11.
Tandoori Chicken Wings Gluten Free!
Juicy char-grilled chicken wings marinated in yogurt and our homemade blend of spices 9.
Chicken Pakoras
Delicately spiced tasty chicken strips 8.
Shrimp Til Tinka
A Masala Art favorite! Crispy shrimp, coated with sesame seeds and a spiced soy and mustard sauce 11.
Chicken Kali Mirch (New!) Gluten Free!
Sautéed white meat chicken marinated in yogurt simmered in a light sauce with whole peppercorns 10.
Rosemary Naan Bruschetta (New!)
Homemade leavened bread infused with rosemary and topped with olives, feta cheese and crushed red pepper flakes 6.