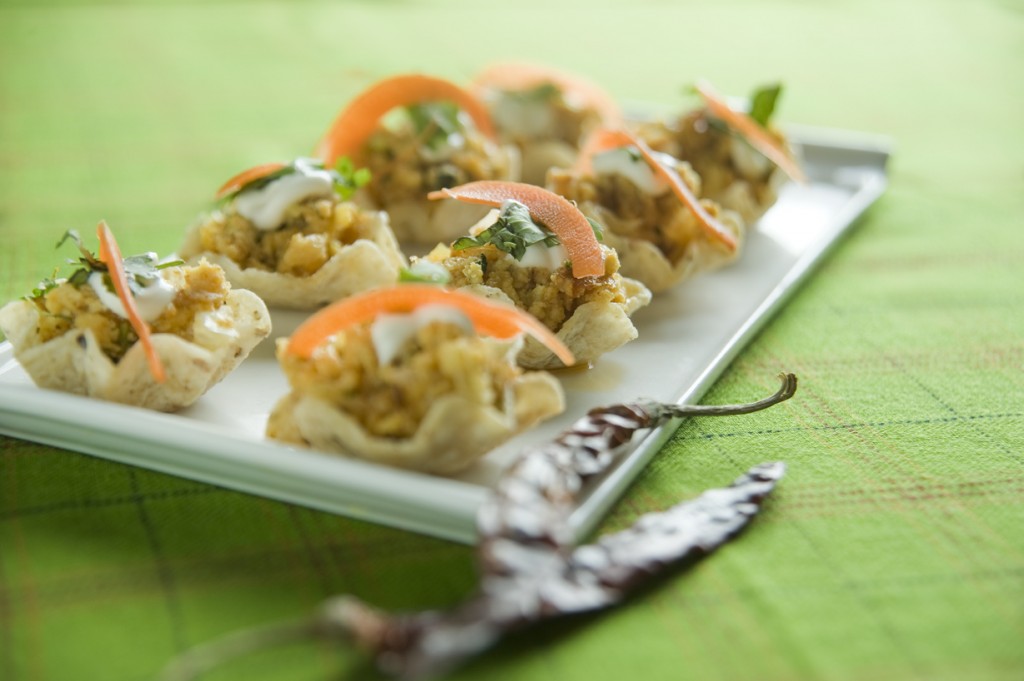 Sweet Potato Fries* 
Homemade sweet potato fries dusted with chaat masala 4.50
Lamb Burger Sliders
Two juicy spiced lamb patties served on mini buns; served with sweet potato fries 9.
Masala Art Corn on the Cob* (New!) Gluten Free!
Open flame grilled corn on the cob smeared with our tangy blend of homemade spices 7.
Mango Chicken Satay  (New!) Gluten Free!
Flat white  meat chicken marinated in raw mange and spices grilled on skewers 8.
Chicken Tikka Satay (New!) Gluten Free!
White meat chicken marinated in yogurt and spices grilled on skewers; served with mint and tamarind chutneys 7.
Paneer Malai Seekh Kebab* (New!) Gluten Free!
Minced homemade cheese and seasoned corn kernels skewered and grilled over a charcoal flame 8.
Tandoori Chicken Wings Gluten Free!
Juicy char-grilled chicken wings marinated in yogurt and our homemade blend of spices 5.
Chicken Pakoras
Delicately spiced tasty chicken strips 7.
Shrimp Til Tinka
A Masala Art favorite! Crispy shrimp, coated with sesame seeds and a spiced soy and mustard sauce 10.
Soya Chops* (New!)
Skewered seasoned soya granule and potato rissoles 7.
Chicken Kali Mirch* (New!) Gluten Free!
Sautéed white meat chicken marinated in yogurt simmered in a light sauce with whole peppercorns 8.
Popcorn Chicken (New!)
Masala dusted batter-friend bite size pieces of chicken; served with honey ginger sauce 8.
Mutton Chapli Kebab (New!) Gluten Free!
Spiced minced goat meat patties flavored with ginger, pomegranate seeds and browned onions 10.

Kaathi Rolls (New!)
Handmade thin whole wheat bread wrapped around your choice of spiced homemade cheese*, grilled Chicken Tikka, or Lamb Shaami Kebab with sautéed onions and green peppers 9.
Chicken Tikka Lettuce Wraps (New!) Gluten Free!
Sliced tandoori grilled Chicken Tikka, carrots, cucumber strips, rice puffs, and lettuce leaves, served with three delicious homemade sauces -Tamarind, Mint and Sweet Red Chili 10.
Rosemary Naan Bruschetta (New!)
Homemade leavened bread infused with rosemary and topped with olives, feta cheese and crushed red pepper flakes 5.